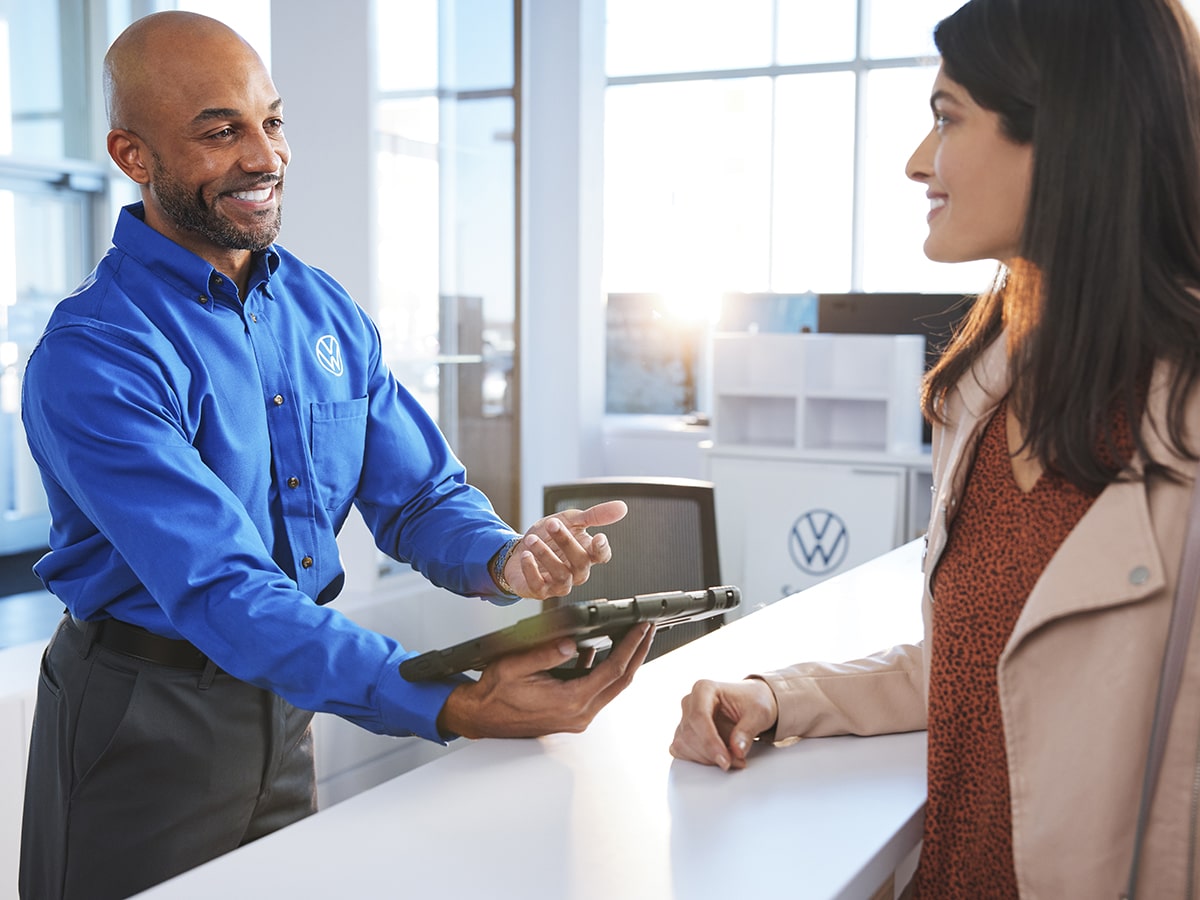 Schedule Your Next Volkswagen Service Appointment in Brunswick
At Brunswick Volkswagen, we make it easy for you to schedule an appointment for your vehicle. That's why so many drivers from the Brunswick, North Royalton, Middleburg Heights, Medina, and Columbia Station, OH, choose our service center over others. Here's a look at how you can use our accessible service scheduling page.
Schedule a Service Appointment
You can get started by visiting our service scheduler page and enter your email or phone number if you are an existing customer. If you are a new customer, then you can simply enter the following information about your vehicle:
After you enter your vehicle information, our system will return a selection of scheduled and recommended services. Simply select the services that you wish to have performed on your Volkswagen. Afterward, you have the option to let us know if you will be waiting at the service center or returning to your home or office. If your vehicle's service is extensive, we may offer you a courtesy vehicle or dealership transportation. Next, you can schedule your appointment.
Typically, customers can complete this entire process in less than a minute. Our goal is to make it as easy as possible for you to schedule your vehicle's appointment.
The Importance of Regular Volkswagen Service
Your Volkswagen is designed to give you years of excellent service. That's why it is crucial to stay on top of your vehicle's regularly scheduled service. Delaying any service of your vehicle can lead to lower performance and higher repair bills. Our service center provides all the services that your vehicle needs. From oil changes to brake and transmission services, we are ready to give your Volkswagen the top service it deserves. This is why we are a popular choice for so many area Volkswagen drivers.
Why Choose Us?
At our service center, we make it easy for you to schedule your vehicle's appointment. Not only that, we provide you with VIP service from start to finish. Our customer service team is always ready to assist you. Not only that, our service center team will work hard to complete your vehicle's service quickly and get you back on the road. We're dedicated to being your service center of choice in the area. You can rely on us to provide you with excellent service every time.
---
Schedule Volkswagen Service in Brunswick
Schedule your Volkswagen service at Brunswick Volkswagen. We are open six days a week to provide you with top service. Be sure to use our fast online scheduler today. We're ready to show you why we are one of the best service centers in the Brunswick area.
---