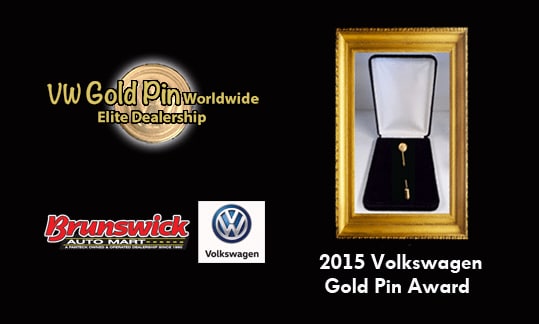 A Gold Pin award is based on how Brunswick Volkswagen, represents the Volkswagen brand to the customer and the experience the customer receives while at our dealership.
 It is a once-in-a-lifetime honor from Volkswagen headquarters in Wolfsburg Germany for consistent, long term customer service excellence & passion for the brand.
 Gold Pin dealers are in an elite club of dealers who have embodied the whole spirit of how to treat the customer. There are 652 US dealers and Brunswick Volkswagen is 1 of 14 US dealers to receive this award.
The determining criteria, which are applicable, are:
- Customer satisfaction top 20 in the country
 - Target achievement top 20 / country
 - Standard fulfillment 100 %
 - Ranking Scorecard top 20 in the country
 - Performance continuity (Fulfilled of criteria over several years)
 - Years of staff membership in the company
 - Brand loyalty.
 Partnership, community involvement, etc.
1 of 14 awarded in 2015 within US 652 dealers